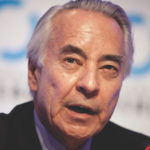 United States
Amb. Richard Burt
Diplomat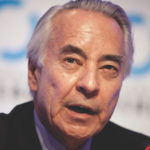 Ambassador Richard Burt is the U.S. chair of Global Zero. He is an accomplished U.S. diplomat with special expertise in the area of nuclear weapons. Burt successfully concluded a nuclear arms treaty as the U.S. chief negotiator in the Strategic Arms Reduction Talks with the Soviet Union in 1991. Previously, he was U.S. ambassador to Germany.
From 1977 to 1980, Burt worked in Washington as a national security correspondent for The New York Times. He earned his bachelor's degree in government from Cornell University in 1969, and his master's degree in international relations from the Fletcher School of Law and Diplomacy at Tufts University in 1971.
Burt currently serves as managing director at McLarty Associates, which provides consulting for corporations and financial institutions worldwide on strategic planning, government issues, market access, mergers and acquisitions and political and economic risk.
Burt is co-chair of the Nuclear Crisis Group and the Global Zero NATO-Russia Commission and a member of the Global Zero Commission on Nuclear Risk Reduction, the Global Zero U.S. Nuclear Policy Commission and the Global Zero Commission.