text_content
The Situation
The Korean Peninsula has emerged as an epicenter of nuclear tensions.
North Korea's nuclear program has accelerated in recent years, and extravagant threats traded by U.S. and North Korean leaders in 2017 stoked fears across the region and beyond. Intelligence assessments as well as the statements of Kim Jong Un and other North Korean officials suggest that North Korea's nuclear ambitions have not been laid to rest. However, relations between North Korea and South Korea are improving; stronger relations have been forged between Supreme Leader Kim Jong Un of North Korea and President Moon Jae-in of South Korea, and their respective teams, offering hope of a solution to the conflict that tore the region in two seven decades ago. 
In June 2018, Kim Jong Un and U.S. President Donald Trump met in Singapore to discuss the North Korean nuclear program — marking the first-ever talks held between a North Korean leader and a sitting U.S. President. Trump and Kim Jong Un met again in Hanoi in February 2019 to continue talks. However, the Hanoi Summit ended abruptly with no deal, and the future of United States-North Korea relations remains uncertain.
Recommendations
Taken from the Nuclear Crisis Group's Urgent Steps to De-Escalate Nuclear Flashpoints from June 2017, the following steps should be considered and pursued by all parties to reduce the risks of nuclear use in the region as they pursue a more comprehensive agreement:
Refrain from nuclear threats and adopt nuclear no-first-use statements;
Fully and consistently implement communication links between DPRK and ROK military leaders;
Refrain from provocative military actions that could escalate to nuclear conflict;
Reaffirm the September 19, 2005 Six-Party joint statement on denuclearization;
Expand and enhance Track II discussions by North Korea, the United States, and other regional states;
Pursue a permanent peace regime and establish US-DPRK diplomatic relations;
Implement progressive North Korean sanctions relief and economic assistance in parallel with progress on denuclearization.
image_caption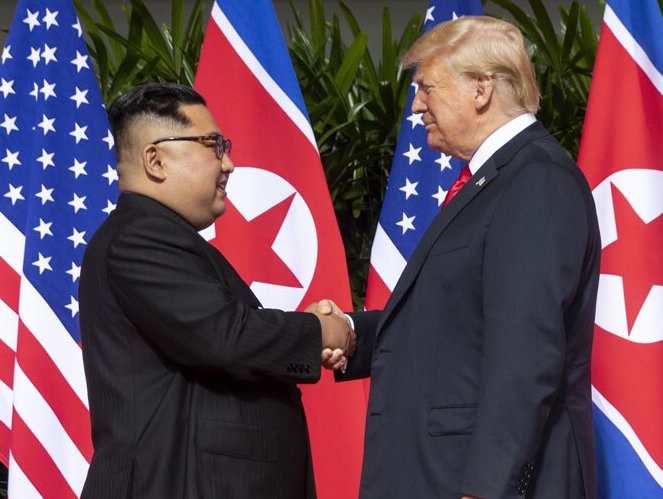 text_content
quote
Pyongyang's nuclear and missile programs continue to represent a major challenge to global security, and Trump must empower U.S. negotiators to work out a deal that reduces the risk of nuclear confrontation and serves the security interests of the United States, North Korea and the world.

Jon Wolfsthal
text_content
News on North Korea mentioning Global Zero
'Illusion of progress': National security expert picks apart Trump's summit with Kim Jong Un
Raw Story, February 28, 2019
"On Thursday, Jon Wolfsthal, director of Global Zero's Nuclear Crisis Group, and former nuclear expert for the National Security Council under Barack Obama's administration warned that President Donald Trump's summit in North Korea is nothing more than an 'illusion of progress,'" reports Raw Story.
North Korea disputes Trump and says only wanted 'partial' lifting of sanctions in exchange for nuclear dismantlement
Independent, February 28, 2019
Jon Wolfsthal, director of the Nuclear Crisis Group, referenced in article about the Hanoi Summit. He said while the breakdown in talks was a disappointment, there is still room for diplomacy.
Trump has made North Korea nuclear threat worse, former White House expert says
Independent, February 27, 2019
Exclusive: Former National Security Council member, Jon Wolfsthal, says, "North Korea's nuclear and missile capabilities are more dangerous than when Trump took office."
Trump can launch nuclear weapons whenever he wants, with or without Mattis
Washington Post, December 23, 2018
The notion that Mattis, a former four-star Marine Corps general, could have blocked or defied a move by Trump to impulsively launch nuclear weapons may have seemed comforting, but it shouldn't have been. The Secretary of Defense has no legal position in the nuclear chain of command, and any attempts by a Secretary of Defense to prevent the president from exercising the authority to use nuclear weapons would be undemocratic and illegal.
Former launch officer warns Trump strategy fuels nuclear arms race
CNN, September 19, 2018
In a new report released on Tuesday, Global Zero's Dr. Bruce Blair, a former Air Force launch control officer who's a nuclear security expert at Princeton University, argues that the United States' nuclear stance is a "vestige of the Cold War" that creates instability with an unnecessarily hefty price tag.
image_caption
text_content
What's Next?
The status of talks between the United States and North Korea remains uncertain. However, continuing the diplomatic process between all parties must be the next step, as dialogue is the only option for pursuing denuclearization on the Korean peninsula as the long-term goal. "fire and fury" rhetoric of 2017 between the United States and North Korea.
quote
We need an objective timeline for what North Korea is going to achieve. And we need to be able to put people on the ground to verify that they're doing what they say they're going to do.

Jon Wolfsthal in Raw Story